Read some testimonials from past clients of CITY:
Bill Dykens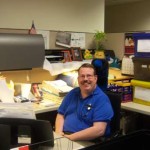 I have been a client of CITY Community Services for many years. CITY has always been a cornerstone in helping people like myself find and keep my employment. I have held many jobs during my time with CITY Community Services. I first landed a job with a Dental Office in Pasadena as a Receptionist, this was a challenge for me as my boss wanted to move in to the age of computers way back when. I turned to CITY Community Services who helped me adapt and made sure my boss was satisfied with my phone skills, appointment taking, and much more. I have always been wanting to better myself and having a Job Coach helped me obtain my goals of keeping my job and always ready to help me with what ever I need to continue to be a successful individual in the work force. After being with the Dentist for several years I decided I wanted a change and I asked CITY to help me find a new job and they did. I went to work for Abbey Party Rents as a Party Planner and I had my job Coach, Mary, by my side while learning a new trade as a Party Planner which I truly loved, but after 6 months I was let go do to the fact that Abbey had to down size. I then moved on to where I am today 23 years later. With the help of CITY Community Services and other agencies I am a Legal Clerk for The L.A. City Attorney's Office where I am responsible for Data Entry of many cases.  I train staff on how to input cases and other duties as assigned. CITY Community Services comes by to monitor my progress and helps me insure that things continue to go well for me by talking with me and my supervisors when needed. Thanks to the guidance of Heather & Blake, CITY Community Services helps to keep me going strong to continue my goal of being gainfully employed! But it doesn't stop there.  All the staff are available to listen and help guide you when you need them. I am glad to be a client of CITY Community Services because without them it would be hard to find jobs for people with disabilities who want to work and be a part of everyday life. Like myself who is disabled, I got help and you can too. Just call CITY to see how they can help you. Thanks CITY Community Services for all you have done for me.
Bill Dykens
Client, CITY Community Services

---
Michael Joseph Thorn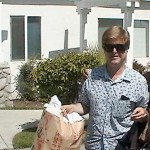 In 1983, the CITY Community Services was born. My son, Michael Joseph Thorn, was lucky enough to be one of the first three clients to be accepted. It's a wonderful vocational work program that offers developmental disabled people jobs in a normal work environment. I always knew that Michael was above being placed in a workshop setting. My dream came true when Larry Neave, a high school teacher at La Canada High started this program.  Michael has been working at Von's #139 in Pasadena for 17 years now as courtesy clerk. He has made numerous friends and acquaintances and his social skills have soared.  CITY also has ILS (Independent Living Skills) trainers to help individuals with everyday tasks in their homes and apartments enabling them to live on their own independently. CITY Community Services gives people with high functioning skills a chance to do their part in the community and create a positive self-image of themselves.  I can only hope that this program continues to do the job in helping people with disabilities to find their dream.
Sincerely,
Barbara Thorn-Otto